We're re-introducing the #WYLfamily, from co-founders to new interns. Adam has been working at Wear Your Label for three months as a Customer Happiness Intern. From packaging orders to writing letters and answering e-mails, he helps keep the ship afloat. 
WYL: Tell us a little bit about yourself
A: Well the basic stuff is my name is Adam Horan, I was born in Belmont, NH, USA and lived there until I was 18, and at that point I came to school in New Brunswick! I am 20 years old and studying Political Science and International Relations with a minor in Science and Technology Studies at St. Thomas University and I'm in my third year. After I graduate, I have no idea what I am going to do, I'll figure it out one day… hopefully. Currently I am a Residence Advisor in one of the St. Thomas University dorms and I am a Customer Happiness Intern at Wear Your Label.
WYL: What's your connection to mental health?
A: I have had an interest in mental health since I became a Residence Advisor in my dorm and realized how important it is to start a conversation with people. Going to the Jack Summit in Toronto increased my interest in being a student leader because I learned how I can actually do something. Also, I have mental health, just like the 5/5 Canadians. I have days where I don't want to get out of bed, where I walk around in a haze, and I have accepted it, I live with it, and starting a conversation has been the best thing I have ever done.
WYL: Why is raising awareness about mental health important to you?
A: I have seen firsthand what happens when an individual has nowhere to turn to. Raising awareness is something that is important because it allows people to feel as though they are not alone in their fight, but that there are other people going through the same thing. Also, raising awareness gives people the strength to be able to start a conversation which is a step forward, and any step forward is progress.
WYL: Any advice for someone who might be struggling with mental illness?
A: Talk, that's the biggest thing that anyone can do. Even if you are just writing a letter to yourself to get it all out. Secondly, the biggest problem is the idea of not accepting that you may have a mental illness. Acceptance is the hardest thing to do, but the biggest weight off your shoulders.
Fun Q's
WYL: Fave thing about working at WYL?
A: I have the best bosses in the world, like who else would offer to get a tattoo with everyone from the office (vlog coming soon). Also, getting mail from customers who are so grateful for the things we do just lifts my spirts knowing that I have the ability to help people. Also, seeing Instagram posts with #wearyourlabel and the notes I wrote to people on them shows how grateful people are.
WYL: What's something random about you?
A: I've lived in Canada for 3 years now and have no idea how to ice skate.
WYL: Cats or Dogs?
A: Dogs, I have always had a dream of having 30 Golden Retrievers running around me and playing with them.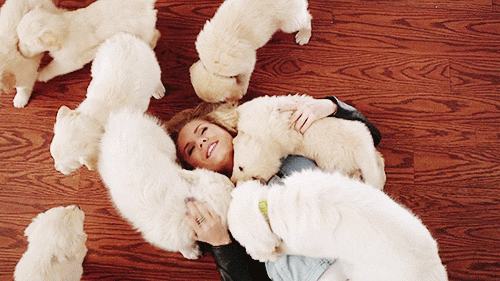 WYL: What's the best present you've ever received?
A: The best present I ever got was probably my first tattoo for my 18th birthday that my parents paid for. Now I just want more and more!
WYL: Favorite Wear Your Label piece?
A: The Sad But Rad T-shirt is by far my favorite piece, mostly because it resonates with me in that you can be sad or down, but at the same time there is the possibility to still be rad or awesome. 
---
Photos by Kelsey Schroeder, Jack.org and Giphy